Thai Microscopy Co., Ltd. 
 From Microscopes to Scientific Products
Thai Microscopy began business in 1990 as a supplier of imported microscopes in Thailand. Our company is located in Bangkok where shipping and transportation are convenient. Customers including academics, hospitals, research institutes, and industries have continuously given us the opportunity to serve them with our reliable products including services from our well-trained and qualified technicians.

        By 1994 our achievement in supplying customers with microscopes has led us to the expansion of our company to offer a variety of products for customers who are in various fields of science and technology especially for those in the areas of biotechnology.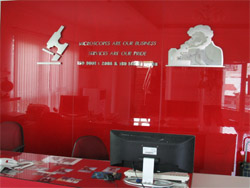 To assure the quality and value of our products, accessories, parts and supplies, we offered only those certified with international standard i.e., ISO 9000, DIN, and JIS which from USA, Europe and Japan, respectively. Additionally, we have also developed certain in-house products to meet the requirements of our customers.
        At present, we are serving more than 350 acknowledged schools, colleges, universities, research institutes and industries nationwide.We are the sole authorized dealer in Thailand of the following brands: 



The Thai Microscopy service staff's main mission is to keep our customers satisfied with the products they have purchased. In order to provide our customers more efficiently, we are now aquire a certifation of

ISO 9001:2008. and ISO 14001:2004